Books & Literacy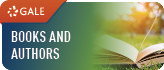 Gale Books and Authors makes exploration of genre fiction and essential non-fiction fun! By leveraging our entire award-winning What Do I Read Next? collection, patrons and students alike can be sure that their next big read comes with a BIG recommendation.
Lively reviews and recommendations make book selection fun.
Powered by OverDrive, use your favorite device to borrow ebooks, audiobooks, and stream videos from participating Iowa public libraries.